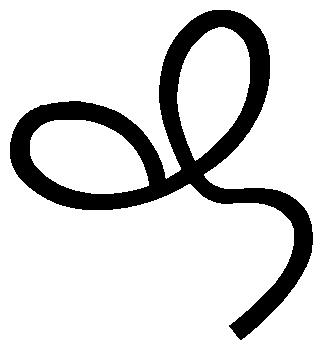 (Butterflies)
Suite per pianoforte e farfalle origami
Ogni pagina di Butterflies è un'ala di farfalla speculare a un'ala compagna. L'interprete può eseguire la successione scritta, con le ali speculari che evidenziano la scrittura canonica della partitura, o cambiare la successione dei brani accostando pagine-ali diverse e creando farfalle originali.
Dai martelletti del pianoforte partono fili invisibili cui sono collegate le farfalle origami. Durante l'esecuzione le farfalle si muovono creando continue coreografie.
Lo stile canonico dei brani è volto alla ricerca di uno spazio e di un tempo per la percezione musicale dei leggeri movimenti degli origami: una sorta di incantamento delle farfalle, dell'ascoltatore e dell'esecutore stesso.
Nel 2022 il MEET Digital Culture Center Fondazione Cariplo di Milano ha allestito Butterflies nella versione Emotions, in cui le farfalle sono generate dalle reazioni neuronali degli spettatori durante l'ascolto.

Il pianoforte e gli origami sono immersi in una video elaborazione che interagisce in tempo reale con la musica componendo e scomponendo farfalle virtuali in base alle dinamiche espressive della composizione. I continui movimenti del pianista e degli origami alterano la percezione delle immagini ricreandole in modo sempre diverso.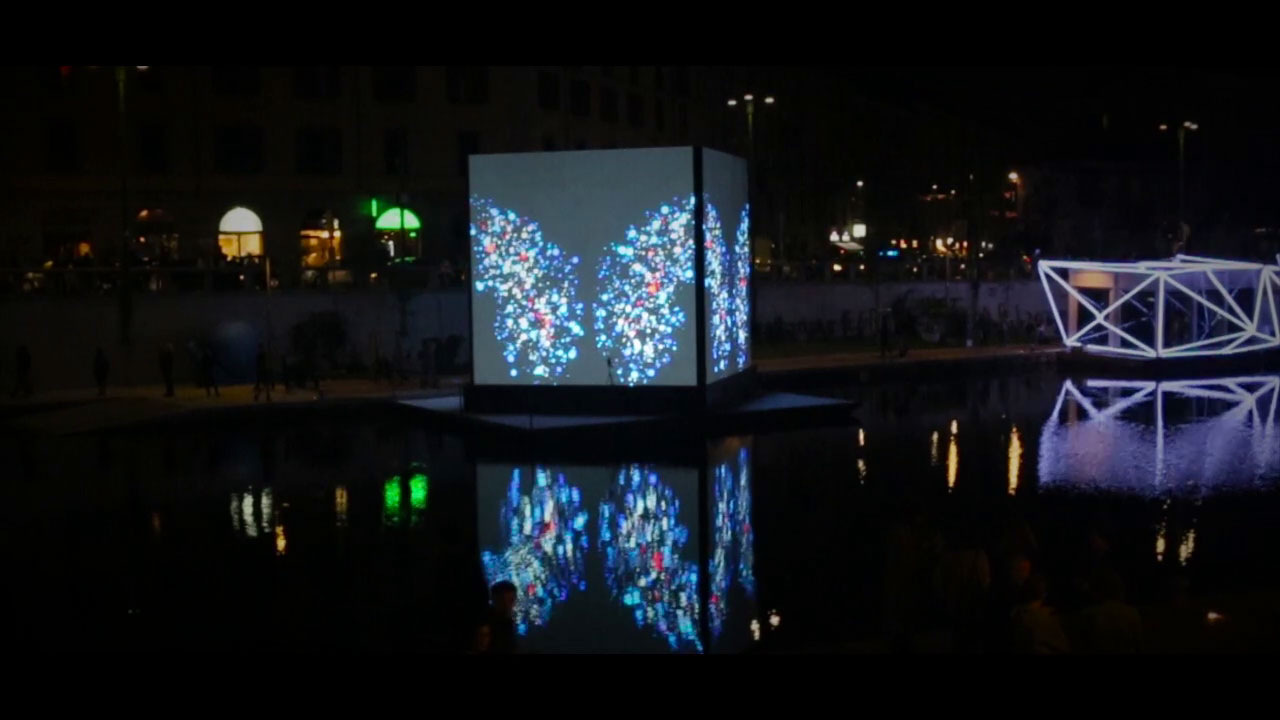 Butterflies è stato allestito per la prima volta nell'ottobre del 2015 a Milano nell'ambito di Expo in Città per la manifestazione Green City con l'esecuzione di Lorena Portalupi su un pianoforte concesso da Bosoni preparato da Ulisse Garnerone. L'elaborazione digitale è stata curata da Orf Quarenghi e Cristina Storti Gajani.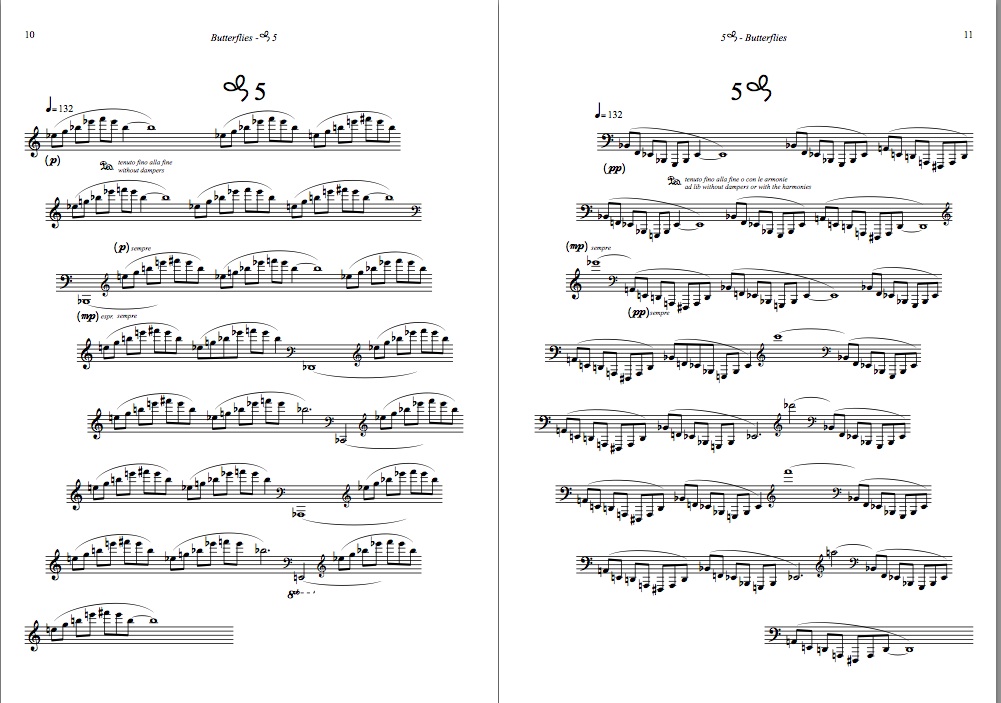 ---
A piano, an original score, and hundreds of origami butterflies flying over. When the pianist starts playing, the butterflies dance.
Every page of the Butterflies score is a wing corresponding to a symmetrical twin wing. The canonical style of the score aims to create a musical space for the butterflies choreographies: a kind of fascination for the butterflies, for the pianist, and for the audience. The audience wears special headphones picking up the brainwaves generated by the music and converting them into butterflies.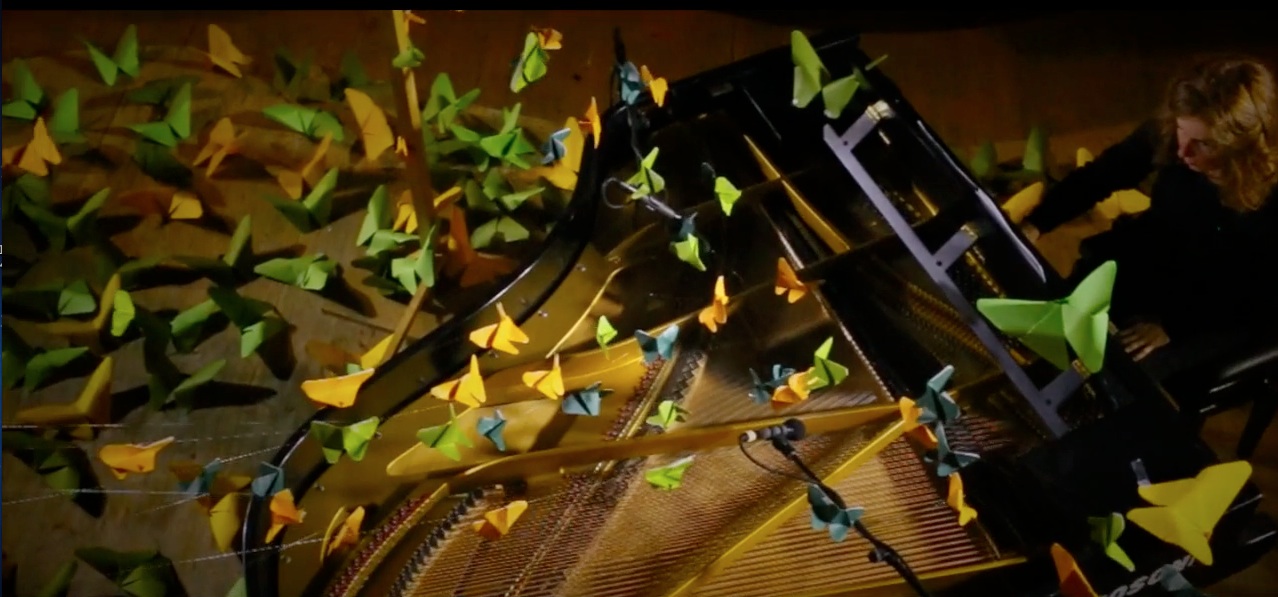 Butterflies was premiered by the pianist Lorena Portalupi in October 2015 in Milan during Expo in Città by Green City on a piano by Bosoni prepared by Ulisse Garnerone. Digital elaboration by Orf Quarenghi and Cristina Storti Gajani.